(This page was updated May 11, 2004)

99 Classmates Have Attended Monthly Get-Togethers
What started off as a one-time lunch among four members of the SCHS Class of '54 has turned into a regular affair every month since the four first got together in January 2000. In February 2000, we invited a couple of more and a tradition was born.

As of our April 28, 2004, get-together, 99 different classmates have attended one or more of our get-togethers. Attendees so far include:

Santa Cruz County Residents (44):
Gary Andersen, Lani Ansley-Hall, John Biondi, Pat Camera, Bev Caton-Pinelli*, Jeanne Cleveland-Carroll, Nancy Cummings-Jellison, Rich Delucchi, George Domenichelli, Fred Fehn, Caroline Fisher-Parrish, Lorraine Folk-Voight, Mary Ghio-Stagnaro, Arnold Gregg, Max Groszmann*, Marilyn Ingols-Bem*; Rod Jensen, Len Klempnauer, Dan Knoll, Daisy Lawrence-Reed*, Layne LeComte, Jun Lee, Maynard Manson, Aldo Mazzei, Alberta Miles-Young, Al Mitchell, Suzi Morris-Zamora, Ruth Nielsen-Mitchell, Nick Pagnini, Melvin Perry, Diana Ray, Peggy Roberson-Wehr, Darlene Sanders-Biondi, Alice Santos-Ponza, Jim Scoppettone**, Carole Skinner-Ray, Merryl Skinner-Carlson, Sharon Steele-Bedell, Lowell Webb, Art Weybright, Jean White-Giudici, Bob Wilson and Kathy Work-Donovan.
*Bev has since moved to Corning, Calif.
*Max has since moved to Forest Grove, Ore.
*Marilyn, a widow, has married widower Max Goode, Class of '53, and has since moved to Mariposa, Calif.
*Daisy has since moved to Fresno, Calif.
**Jim Scoppettone was actually a '54 grad of Holy Cross Catholic High School, also in Santa Cruz

Other Californians (39):
Phil Baker, Redding; Tom Baker, San Diego; Cookie Barrientos-Ruschin, San Jose; Bill Bartlett, Los Gatos; Bob Branstetter, Santa Rosa; Emma Burris-Turner, Santa Maria; Ada Bushnell-Branstetter, Santa Rosa; Beryl Case-Reichenberg, San Luis Obispo; Marie Dianda-Hudson, Grass Valley; Edella/Adela Eddy-Parada, Pinole; Chuck Filice, Salinas; Charlie Fritz, Alamo; Margaret Ghio-Hartmann, San Francisco; Sharon Grever-Petersen, San Jose; Paul Heaney, Lodi; Nancy Herbert-McInnes, San Anselmo; Carole Hill-Barrish, Cambria; Jackie Johnston-Kaiser, Napa; Nathan Knight, Fair Oaks; Luella/Joan Kraus-Sweet, Oroville; Dick Lippert, Carmichael; Barbara McCombs-McFadden, Oakland; Nancy McMillan-Geiger, Livermore; Dianne Morgan, Burbank; Merle Morris-Ongaro, San Anselmo; Rose Neri-Unger, Los Gatos; Shirley Nunes-Filice, Salinas; Larry Pepper, San Luis Obispo; Bill Pike, Oxnard; Jack Richey*, Merced; Ruth Roinestad-Yoder, San Jose; Steve Rowland, Sausalito**; Betty Santos-McGinnes, Isleton; Ed Smiley, Grass Valley; Tom Stears***, Studio City; Areka Stevenson-De La Selva, Monterey; Shirley Thuringer-Faux, Fresno; John Drew, Mill Valley; John Yonkman, Redwood City.
*Jack has since moved back to Santa Cruz County.
**Steve has since moved to Corte Madera
***Tommy died Aug. 16, 2003.

Out-of-Staters (16):
Pat Banach-Lowell, Sedona, Ariz; Byron/Joe Bird*, Phoenix, Ariz.; Vice Durden, Grants Pass, Ore.; Jim Fitzpatrick, Las Vegas, Nev.; Jerry Fuerst, Kalamazoo, Mich.; Kim Gardner-Harris, Carrolton, Tex.; Joan Good-Head, Myrtle Creek, Ore.; Bob Head, Myrtle Creek, Ore.; Roger Lovato, Camp Verde, Ariz.; Hylan Lyon, Dallas, Tex.; Vada McCray-Lovato, Camp Verde, Ariz.; Bob Sakata*, Chapel Hills, N.C.; Val Sherbourne-Dillehay, Reno, Nev.; Terry Simerly, Lakewood, Colo.; Jim Zachary**, Miami, Fla.; and Judy Malloch-Craig, Australia.
*Joe has since moved back to Santa Cruz County
*Bob has since moved to Roseville, Calif.
**Jim graduated from Watsonville High in '54, also in Santa Cruz County, and has since moved to Dallas, Tex.
Link to SCHS Alumni Assn. Web Page
Deceased Classmates
2000 to the present:
2004: Apr 24: Don Richey, Lima, Ohio.
2003: Dec. 31: Alan Nunes, Idaho
2003: Dec. 23: Bruce Sherbourne, Crescent City, Calif.
2003: Aug 16, Thomas "Tommy" Stears, Studio City, Calif.
2003: May 24, Doyne "Don" Weaver, Santa Clara, Calif.
2000: Sep 16, Henry "Hank" Papa, Santa Cruz, Calif.
2000: Jun 15, Richard "Dick" McCoy, Flagstaff, Ariz.
2000: Mar 1, Sandra "Sandy" (McDonald) Sandberg, San Jose, Calif.
1990 to 1999
1999 -- Oct 25, Suzanne (Jenkins) Carpenter, Monterey County
1999 -- May 26, Ronald "Ron" Rulofson, Lassen County
1998 -- Nov 5, Eloise (Jurich) Cecil, Salem, Ore.
1998 -- Oct 7, Donna (Scriver) Martin, Oroville, Calif.
1997 -- Oct 30, Patricia (Reich) Mead, Santa Cruz County
1997 -- Mar 25, Windel McGee, Santa Cruz County
1997 -- Feb 8, Anne (Hunt) Elward, Santa Cruz County
1997 -- Jan 16, Theodore "Ted" Netoff, Santa Clara County
1996 -- Mar 22, William "Bill" Deans, Orange County
1996 -- Jan 28, Alice (Blair) Booth, no location*.
1995 -- Nov 1, Jo Ann King, Santa Cruz County
1995 -- Oct 1, Fredrick "Fred" Correia, Santa Cruz County
1994 -- Mar 2, Thomas "Tom" Elward, Santa Clara County
1993 -- Jul 12, Douglas "Doug" Eudey, Santa Cruz County
1992 -- Dec 27, Normann "Norm" Pesenti, Santa Cruz County
1992 -- Mar 4, Giuliano "Gino" Dughi, Santa Cruz County
1990 -- Oct 7, Dolores (Gaxiola) Whitesell, Santa Cruz County
1990 -- Aug 26, Darrow Hudson, Salem, Ore.
*SSDI lists Alice Booth, b May 7, 1936, d Jan 28, 1996. California Birth Records (CBR) lists Alice Blair, b May 7, 1936, Monterey County, Calif.
1980 to 1989
1987 -- Nov 8, Louis "Lou" Silva, Santa Cruz County
1984 -- Mar 21, Walter "Skeeter" Bettencourt, Santa Cruz County
1983 -- Sep 27, Laurence "Larry" March, Stanislaus County
1981 -- Nov 24, Jacquelyn "Jackie" (Woosley) Goody, Santa Cruz County, auto accident
1970 to 1979
1971 -- Dec 17, Howard "Howie" Adams, Santa Cruz County
1970 -- Oct. 19, Richard Young, Shasta County (shooting accident)
1960 to 1969
1969 -- Nov 13, Barbara (Hayford) Azevedo, Santa Cruz County
1964 -- No date, Mary (Gill) Sullivan, Lake Tahoe, Calif., airliner crash.
1962 -- Jan 21, Delbert "Del" Kreinbring, Santa Cruz County, auto crash.
1954 to 1959
1958 -- Feb 2: Robert Younger, Santa Cruz County
Others, but no dates or locations:
(Brooks) Towne, Kathleen
Howe, Robert "Bob"
Johnson, Charles "Chuck"
(Landino) Jones, Leonora
Mana, Bernard
Martin, William "Bill"
(Meyer) Wittman, Ann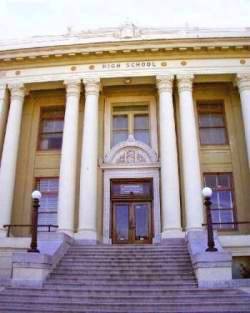 The Senior Steps
Remember when only seniors could ascend the steps leading up to the SCHS building. That tradition died after the building was condemned in the spring of 1953 and we had to abandon it. The school board squabbled quite awhile on whether to demolish the building and erect a new high school or rehabilitate this majestic edifice. Luckily for Santa Cruzans for generations to come, the preservationists won the battle and the building was made earthquake-safe. But the next class to graduate out of the building was the Class of '58, and the Senior Steps tradition vanished during the interim. The Classes of '56 and '57 didn't have any school days in the building.
(Photo by Bev Caton-Pinelli, Class of '54)