33 Classmates Attend Fund-Raising Picnic
Sporting our "Classy Cards of '54" T-shirts, 33 members of the Class of 1954 attended
the biennial BBQ fund-raiser sponsored by the SCHS Alumni Association on Sunday, Aug. 26, 2001,
at Harvey West Park in Santa Cruz. With our spouses and guests (18), we comprised about 12 percent
of the gathering, which totaled something over 400. Class of '54 attendees were:
Bill Bartlett, Los Gatos, Calif.; Emma (Burris) Turner, Santa Maria, Calif.; Nancy (Cummings) Jellison,
Santa Cruz; Marie (Dianda) Hudson, Grass Valley, Calif.; Jim Fitzpatrick, Las Vegas, Nev.; Lorraine (Folk) Voight,
Santa Cruz; Kim (Gardner) Harris, Carrolton, Tex.; Margaret (Ghio) Hartmann, San Francisco; Sharon (Grever) Petersen,
San Jose; Carole (Hill) Barrish, Cambria, Calif.; Rod Jensen, Aptos, Calif.; Len Klempnauer, Capitola, Calif.;
Joan (Kraus) Sweet, Oroville, Calif.; Jun Lee, Scotts Valley, Calif.; Dick Lippert, Carmichael, Calif.; Judy (Malloch) Craig,
Australia.
Maynard Manson, Santa Cruz; Jim Martin, Oroville, Calif.; Aldo Mazzei, Santa Cruz; Al Mitchell, Santa Cruz;
Ruth (Nielsen) Mitchell, Santa Cruz; Ardella (Rasmussen) Camarlinghi, Soquel, Calif.; Diana Ray, Santa Cruz;
Ruth (Roinestad) Yoder, San Jose; Steve Rowland, Sausalito, Calif.; Terry Simerly, Lakewood, Colo.; Tom Stears,
Valley Village, Calif.; Areka (Stevenson) De La Selva, Monterey, Calif.; Fred Swallander, Roseville, Calif.;
Shirley (Thuringer) Faux, Fresno, Calif.; Art Weybright, Bonny Doon, Calif.; Bob Wilson, Santa Cruz; and
Kathy (Work) Donovan, Scotts Valley, Calif.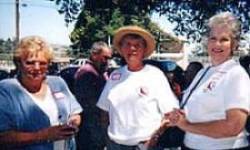 Ardella (Rasmussen) Camarlinghi,
Ruth (Nielsen) Mitchell
and Marie (Dianda) Hudson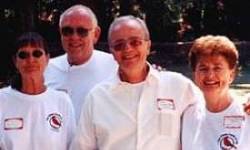 Emma (Burris) Turner, Len Klempnauer, Fred Swallender and
Shirley (Thuringer) Faux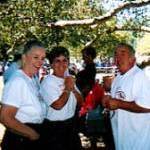 Ruth (Roinestad) Yoder,
Lorraine (Folk) Voight
and Aldo Mazzei